Abaddon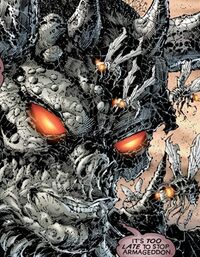 Characteristics
Origin
First appearance
Appearance of Death
Abaddon is one of the Anti-Pope's most trusted generals. His tendrils ripped through the flesh of the humans as they forged their war on Heaven during Armageddon.[1]
When Abel brought Matthew Llanso to Abaddon, he awaited Daniel Llanso's arrival. He offered Daniel a choice: to kill Matthew and save him from eternal damnation, or let the boy be baptized and become a servant of hell. Daniel made his own path forward by teleporting the boy back to his mother and exploding himself killing Abaddon.[2]
Character Powers and Equipment
Powers and AbilitiesEdit
Powers
Appearances, Images, and Quotes Edit
ReferencesEdit
Community content is available under
CC-BY-SA
unless otherwise noted.