Agent Hunter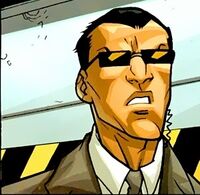 Current Alias
Agent Hunter
Characteristics
Status
Origin
History of character is unknown.
Character Powers and Equipment
Powers and AbilitiesEdit
Powers
After ingesting a serum Agent Hunter's mind and body went through some permanent changes, and he obtained the following abilities.
Immortality: He possess true immortality, which means that he cannot be permanently killed by any means, remain unchanged eternally young, healthy and handsome, unable to die, and simply live forever. He has the uncanny capacity to live entirely self-sufficiently and without sustenance and does not require nourishment. He can survive any environment, even unaided in the vacuum of outer space, and does not need to sleep.
Regeneration: Agent Hunter is immune to all, poisons, toxins, venoms, viruses, bacteria, allergen, disease, disorders, etc. He automatically regenerates from any and all injuries within minutes. He has regenerated being torn in half. [1] as well decapitation [2]
Resurrection: Agent Hunter is unable to permanently die under any circumstances, such as being completely crushed, decapitated, or even due to malnutrition. He has recovered from being shot, stabbed, drowned, crushed, exploded, poisoned, decapitated, irradiated, and incinerated. [3]
Appearances, Images, and Quotes Edit
ReferencesEdit
Community content is available under
CC-BY-SA
unless otherwise noted.