Alani Adobo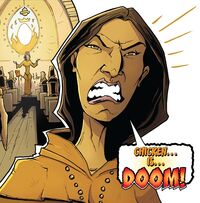 Characteristics
Status
Occupation
Church Prophet
Origin
Alani Adobo is the leader of the Divinity of the Immaculate OVA and speaks out against chicken and considers it doom.
Before she was Alni, she went by the name of Mrs. Sweets. She was the file clerk and deputy of Yamapalu who worked for Raymond Kulolo in the local police force. After the raid by the FDA and the Vampire,[1] she escaped on an illegal Gallsaberry boat. She consumed nothing but Gallsaberry for the journey and was struck with a prophetic vision about the arrival of the fire-writing in the sky.[2]
In Philadelphia, she began the The Church of the Divinity of the Immaculate OVA to spread her word and cleanse the world of sinners who consume chicken. She created the Sacred Texts and protects them at her church with her followers.[2]
Character Powers and Equipment
Powers and AbilitiesEdit
Powers
Clairvoyancy: After eating nothing but Gallsaberry, Adobo was granted with prophetic visions of fire-writing appearing in the sky.[3]
Appearances, Images, and Quotes Edit
Quotations by or about Alani Adobo (Chew)
ReferencesEdit