Alex Grey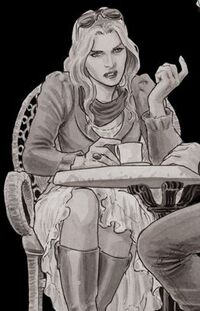 Characteristics
Status
Occupation
School teacher
Origin
Alex is the leader of a group of witches in Portsmouth. When Rowan Black broke a ceremony of theirs, Alex expressed disappointment that she would bring technology into 'their circle.'[1]
Later, Alex met with Rowan and learned that the call was a man who attempted to kill Rowan. He knew her real name and was under a spell. They talked about a lighter having a hammer signal and realized that 'they' hadn't used spells in a long time.[2] Rowan stole the lighter out of the police evidence bin. She gave it to Alex to use a locator spell to find out who was behind the attack. However, when she started the spell late at night, she was attacked by another witch.[3] Rowan later came to her house and found her locked in the reflection of her bowl. Rowan entered the alternate world and put a bullet between Alex's attacker's eyes and pulled Alex out of the alternate world. Upon catching her breath, Alex jokes she'd never help Rowan again. She went on to tell Ro that whoever had started this attack, was powerful and waiting for them. She urged Ro to be careful.[4]
Character Powers and Equipment
Appearances, Images, and Quotes Edit
ReferencesEdit
Community content is available under
CC-BY-SA
unless otherwise noted.