Alex Grey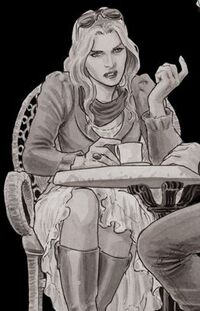 Characteristics
Status
Occupation
School teacher
Origin
Alex is the leader of a group of witches in Portsmouth. When Rowan Black broke a ceremony of theirs, Alex expressed disappointment that she would bring technology into 'their circle.'[1]
Later, Alex met with Rowan and learned that the call was a man who attempted to kill Rowan. He knew her real name and was under a spell. They talked about a lighter having a hammer signal and realized that 'they' hadn't used spells in a long time.[2] Rowan stole the lighter out of the police evidence bin. She gave it to Alex to use a locator spell to find out who was behind the attack. However, when she started the spell late at night, she was attacked by another witch.[3]
Character Powers and Equipment
Appearances, Images, and Quotes Edit
ReferencesEdit
Community content is available under
CC-BY-SA
unless otherwise noted.