Shogun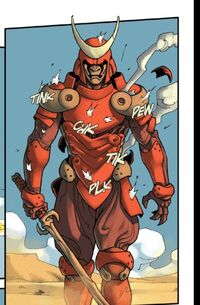 Real Name
Andre Xavier Lord
Relatives
Unnamed Wife (status unknown), Two unnamed children (status unkwown)
Characteristics
Status
Occupation
Government Agent, formerly Martial Arts Instructor
Origin
Origin
Nu-Gene activated by Project: Born Again
Andre is a member of Bloodstrike and the second person to use the Shogun alias.
Andre was a family man and a martial arts instructor until he and his family were involved in a car accident in which he lost his life. After being revived by Project: Born Again and assigned to Bloodstrike, he killed the powerful Nu-Gene terrorist Quantum in one of his first missions.
Character Powers and Equipment
Powers and AbilitiesEdit
Powers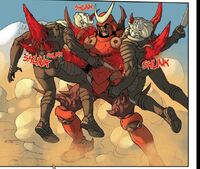 Organic Armor Generation: Shogun has the ability to manipulate his body to generate armors, shields and weapons. The armor covers him from head to foot and is able to separate the swords and daggers he creates from the rest of his body. In the event of damage, he can repair his armor in a few seconds. His weapons, being organic, are immune to Quantum's abilities and can penetrate his defenses.
Abilities
Appearances, Images, and Quotes Edit
ReferencesEdit
Community content is available under
CC-BY-SA
unless otherwise noted.