Mighty Man II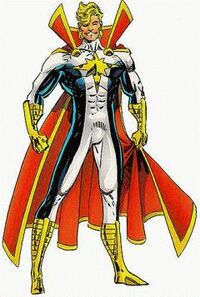 Real Name
Ann Samantha Stevens
Current Alias
Mighty Man II
Relatives
Elizabeth Bradford (daughter)
Base Of Operations
Chicago
Characteristics
Unusual Features
As Ann Stevens her eyes and hair are Brown
Status
Occupation
Nurse, vigilante
Education
College graduate
Origin
Place of Birth
Kansas City
Ann Samantha Stevens was a common nurse until the day Robert Berman, the original Mighty Man, was brought to the hospital after being stabbed in his human form, understanding that he was dying he decided to pass his powers to Ann (mistaking her for his grandson) who became the second Mighty Man and a member of Freak Force.
Character Powers and Equipment
Powers and AbilitiesEdit
Powers
Transformation(formerly): Ann obtained her powers from Robert Berman on his deathbed. She lost them when she got pregnant and her powers were passed to her daughter.
Abilities
Strength level
Class 100+: As Mighty Man Ann can lift approximately 150 tons.
Appearances, Images, and Quotes Edit
Profile at Savage Dragon Wiki
Wikipedia entry
Profile at Big Bang Comics Wiki

ReferencesEdit
Community content is available under
CC-BY-SA
unless otherwise noted.