Anna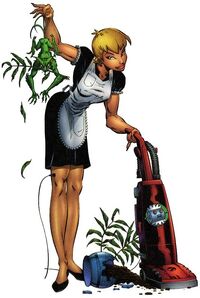 Base Of Operations
La Jolla, California
Characteristics
Status
Origin
Anna was the maid of John Lynch's house in La Jolla, California.[1] She had little patience for the kids' antics, like Sarah Rainmaker diving nude in the swimming pool.[2]
When the Gen 13 team was about to be defeated by Trance, Qeelocke teleported Anna to the place, and she rescued the team, revealing that she actually was an android. [3]
Character Powers and Equipment
Powers and AbilitiesEdit
Powers
Superhuman Strength: Thanks to her robotic body Anna is far stronger than common humans.
Superhuman Durability: Being made of metallic components Anna is more resistant than common people.
Superhuman Speed: Anna is surprisingly fast, while moving she appears blurred and was described as able to do the work of a dozen of housekeepers.
Appearances, Images, and Quotes Edit
Quotations by or about Anna
ReferencesEdit