Antoine Wolf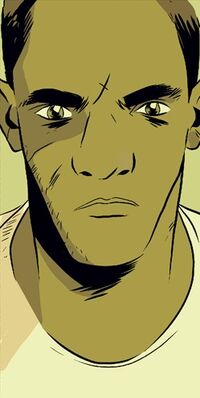 Characteristics
Origin
Antoine Wolf made claim to Sterling Gibson. As a result, he was set on fire to prove he was supernatural.[1]
He was found in a straight jacket running down the road on fire. He ended up putting himself out in a pool where he was arrested. He was released with no evidence but put on a close watch by the officer.[1]
When he later arrived home, he was attacked by Simmons, a henchman for Gibson. He was brought back to Gibson and offered a case to solve.[1]
Wolf later meet with his friend Freddy Chtonic. They discussed keeping Gibson alive until they could save Duane. Wolf helped Chtonic by visiting his vampire landlord who was trying to raise the rent. They learned Frederick Azimuth forced the rent change. They were sin distracted by a noise from the other room.[1]
Later, Wolf found a young girl named Anita Christ knocking at the door claiming to see his friends.[1] Wolfe doesn't let Anita stay long and tells her he also was abandoned but she'd need to find her own way. Meanwhile, he was also working on freeing his brother from prison.[2]
Meanwhile, Wolf visited Azimuth and asked him to reduce Freddy's rate. Azimuth agreed as he discussed their past and how Wolfe's ex-wife, Heidi, would one day come back for revenge against him.[3]
Gibson wanted to protect his investment and had Simmons follow Wolfe. When they discovered his plan to free his brother, they broke into his home when he was gone and kidnapped Freddy as ransom.[3]
Character Powers and Equipment
Powers and AbilitiesEdit
Powers
Abilities
Appearances, Images, and Quotes Edit
ReferencesEdit
References
ReferencesEdit
Community content is available under
CC-BY-SA
unless otherwise noted.