Overlord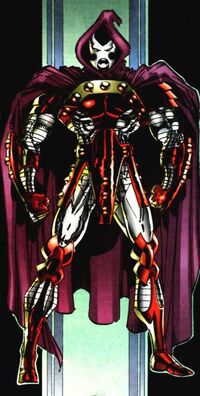 Characteristics
Weight
Weight: 180 lbs. With armor 320 lbs
Origin
First appearance
Appearance of Death
Overlord is a super-powered crime lord who operates out of Chicago. Formerly a mafia boss, he had Cyberdata and his second-in-command Cyberface build him a suit, based on Dread Knights, which granted him immense power, in order to make sure he wasn't overthrown by Supervillains.
Sebastian Khan had long been Seghetti's second-in-command and his mastery of cybernetics led him to construct a suit of armor for his leader. Seghetti donned the impressive battle-suit and took on the guise of OverLord. Soon after, he turned his back on Khan and formed the Vicious Circle, an organized crime cartel composed of mainly super-powered freaks. The Vicious Circle overpowered the traditional mafia crime families and enabled OverLord to hold the whole of Chicago in his grip.
Character Powers and Equipment
ParaphernaliaEdit
Equipment
Power Item: Overlord wears a battle-suit that gives him impressive abilities. After his death at Dragon's hands, the suit was damaged and has never functioned properly again.

Superhuman Strength: Able to go toe-to-toe against Savage Dragon and nearly killing him within minutes. The only way to stop him was using the failsafes Cyberface built into his suit to limit his powers severely.
Energy Projection: Can project powerful beams of energy.
Appearances, Images, and Quotes Edit
Quotations by or about Antonio Seghetti
ReferencesEdit