April Kelly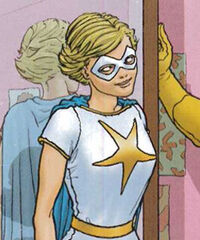 Relatives
Unnamed Parents
Base Of Operations
Los Angeles, California
Characteristics
Status
Origin
First appearance
Last appearance
April once had an affair with the Flare, who was at the time a married super-hero. At first she became his side-kick and helped him catch petty criminals and as their affair progressed, she wanted him to get her into the Union of Justice. The other members of the Union were against it.
So the Flare sent her away on a bus back to her parents in the Mid-West when he had a sudden change of heart and flew after her. Stopping the bus, Fitz proposed to April and shortly thereafter got a divorce from Joyce. As a result of these action, Fitz was treated poorly by the other members of the Union.
Eventually the team called him back into service when the planet was attacked by an alternate reality version of criminal Union members. During the battle he was severely injured and became paraplegic. April abandoned Fitz in the hospital and hasn't seen him since.
Character Powers and Equipment
Powers and AbilitiesEdit
Powers
None
Appearances, Images, and Quotes Edit
Quotations by or about April Kelly (Jupiter's Legacy)
ReferencesEdit