Artemis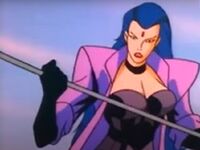 Characteristics
Status
First appearance
WildC.A.T.s (TV series) Season 1 3
History of character is unknown.
Character Powers and Equipment
ParaphernaliaEdit
Equipment
Appearances, Images, and Quotes Edit
The animated Artemis is a composite of her comic version (name and history with Zealot), Andromache (leads the Coda) and Destine (Coda involved in the Yurgovia-Lusitain conflict).

ReferencesEdit
Community content is available under
CC-BY-SA
unless otherwise noted.