Previous Issue
Next Issue
Appearing in the 1st Story
Featured Characters:
Supporting Characters:
Other Characters
Locations
Villains:
Items
Vehicles
Plot Synopsis for the 1st Story
Kinetic continues attacking Gary and Sergeant Superior holds her back, stating that he made a mistake. Superior reveals that Zechariah had saved him from death and says that he's waiting for him. He climbs up the roof and smells him on the roof. Zechariah admires how his senses have increased. Zechariah reveals that he found Superior the moment he "killed" him and turned him into a Vampire so that he could live. An enraged Gary calls off their work relationship, believing that he manipulated him. Zechariah attempts to convince him otherwise, but he refuses.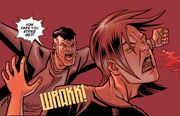 Gary goes back to the Wolf-Man Lair and sees Dunford and Rebecca packing. Rebecca reveals that Gary's accounts are unfrozen and that the embezzlement case is over. She also reveals that Chloe will be going back to the estate with her and not Gary. Rebecca argues that his Lycanthropy has caused trouble for their family. Gary asks for another chance, but she refuses to listen. She leaves to continue packing.
Dunford apologizes to him as he has seen better times. He goes on to say that being Wolf-Man has made his life worst. He leaves to go see Rebecca. He promises to make things right and Rebecca kisses him on lips, stating she loves him too much to throw it away. She goes back and sees Zechariah approach her in mist form. He asks for her help in convincing Gary to come back, but she goes on to say that she never liked him, refusing. He grabs her hand and says that he doesn't know the consequences of him being misinformed about his powers
She strikes him, cutting his skin. An enraged Zechariah hits her, twisting her neck and killing her. He begins to panic and attempts to turn her into a vampire to revive her. Gary catches notice and charges toward him. Zechariah argues that Superior's blood made him stronger and its cravings come quicker. He attempts to bite him, but he escapes in his mist form. He cries in grief upon Rebecca's death and Chloe walks it, seeing Gary holding her corpse. He attempts to convince her that he is innocent, but she becomes scared. He reverts to Human form and leaves. He asks that Dunford take care of Chloe as he leaves.
Zechariah goes to his house and lures the Actioneers. He would have Sgt. Superior nearly kill the Actioneers and convert them to vampires.


Notes
Trivia
See Also
Recommended Reading
Links and References
ReferencesEdit
Community content is available under
CC-BY-SA
unless otherwise noted.