Astra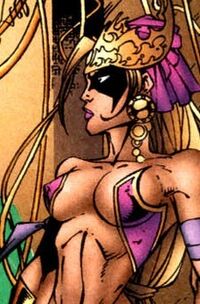 Characteristics
Origin
Astra is an angel of Heaven and is primarily allied with the fallen angel Celestine.
When Celestine was killed by the Violator, Astra and Crystal collected the physical remains of her body that were sacrificed. Upon returning to Elysium, they began an illegal restoration process that would revive Celestine with the added risk of damaging her mentally. Astra and Crystal were successful and the renewed Celestine lead them on a charge to overthrow Heaven now that Celestine had seen the cruelty that God could have for his angels.[1].
Astra and the angels headed to the Isle of Paradise, the home of the mighty warrior race the Amazonians to look for a source of power that was not beholden to God. Celestine enthralled a group of Amazonian warriors to her cause through a form of angelic mind control. They soon captured Lady Demeter and began plans to execute her for treason.
Glory and Angela soon arrived to rescue Lady Demeter. Glory uses her Atmokinesis to summon a tremendous storm that drives Astra, Crystal and Celestine to retreat.[2]
Character Powers and Equipment
Powers and AbilitiesEdit
Powers
ParaphernaliaEdit
Equipment
Appearances, Images, and Quotes Edit
ReferencesEdit
Community content is available under
CC-BY-SA
unless otherwise noted.