Mister Glum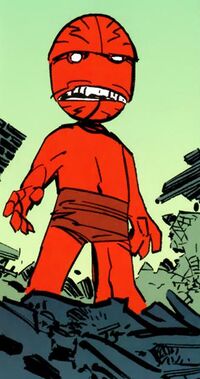 Current Alias
Mister Glum
Base Of Operations
Dimension-X
Characteristics
Origin
Ba-Goom was the leader of an alien world in Dimension-X, in order to prove his genius to his subjects he stated that he would have hunted and killed the famous Savage Dragon.
While on Earth an alternate reality version of Dragon slaughtered the entire population of his homeworld, forcing him to live with Dragon and his family at their house, where between an attempted murder and the other he befriended Dragon's daughter Angel. He eventually fell in love with her and turned her into his mistress.
Character Powers and Equipment
Powers and AbilitiesEdit
Powers
Mind Control(formerly): After using the God Gun Mr Glum obtained the ability to control all Earth-born humans with vocal commands, this caused people to obey all of his orders to the letter. He lost this power after Savage Dragon destroyed the God Gun.
Abilities
Genius Level Intellect: Mr Glum appears to possess a gifted intellect far above the human average.

Mechanical Engineering: Mister Gloom is an adept mechanic and can easily construct weapons like death-rays and other weapon.

Leadership: Mr Glum used to rule his homeworld.
Weaknesses
Overzealousness: Despite his great intellect Mr Glum is not a really patient being and appears always a bit too enthusiastic to put his plans in motion, this often causes him to commit mistakes that would otherwise be easy to avoid.

ParaphernaliaEdit
Equipment
Power Item: In close combat Mr Glum uses an armor designed by himself that gives him super strength and durability.
Appearances, Images, and Quotes Edit
In Savage Dragon Vol 1 119 Mister Glum stated to be 37 years old.

ReferencesEdit