Bandit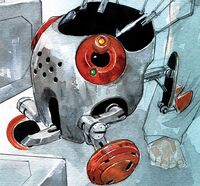 Origin
Bandit is a companion robot for Tim-21.
He was placed in a fighting pit when his crew was captured on Gnish.[1]
Andy Tavers and Blugger Vance soon arrived on Gnish. They were tracking a bug planted on Tim-21's ship but found that Tim-21 had already left the planet when they arrived. They stumbled into Tullis and Bandit who were in the holding pits of the fighting arena. When Tullis realized that Andy was THE Andy that used to own Tim-21, they devised a plan to escape and find Tim. Andy realized that Bandit had a chip that was connected to Tim so they could always find each other. He proposed finding his ex-wife who could rig the electronics to find Tim.[2]
Character Powers and Equipment
Powers and AbilitiesEdit
Powers
Companion Link: Bandit has a chip implanted in him that allows him to connect with Tim-21 so that they can always find each other.[2]
Appearances, Images, and Quotes Edit
Quotations by or about Bandit (Descender)
ReferencesEdit