Bhord of Keneil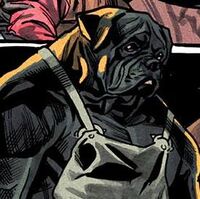 Current Alias
Bhord of Keneil
Characteristics
Status
Origin
Bhord was a simple blacksmith that resided in Keneil. When the 'Great Champion' decided to help the stranded wizards and citizens of the fallen city of Keneil, he expressed his doubts of the stranger's title as Great Champion. He attempted to intimate the human, but back down when the human threaten to kill him.[1]
When a savage tribe of giant bats attacked the encampment Bhord fought against the attackers.[2]
Later he alongside Arkan apprehended Gharta and Gaffa under Sandorst's orders. He was alarmed by Learoyd's immunity to magic when Sandorst tried to make him submit.[3]
When the bison tribes launched a full frontal assault on the ruins of Keneil, he was one of the few to stand alongside the Great Champion.[4]
Character Powers and Equipment
ParaphernaliaEdit
Equipment
Appearances, Images, and Quotes Edit
Quotations by or about Bhord (The Autumnlands)
ReferencesEdit