Characteristics
Status
Origin
Mr. Blokk is in charge of Kadir and Pillar Project.[1]
Indian's Revenge Dimension
The Blokk of the Indian's Revenge Dimension lived in Europe. He was caught by the Dralyn when they invaded and killed everyone on the planet to erase the mistake's of Grant McKay.[2]
Third Dimension
In a Middle East land, Blokk III had Kadir III retrieve the Pillar for him in exchange for Sara III's freedom. [3]
Fourth Dimension
Blokk IV is the leader of the Dralyn. A telepathic death-cult bent on ruling the Eververse. He orders the death of the Anarchist League of Scientists when they attempt to escape his telepathic probes.[4]
They soon invaded the Indian's Revenge Dimension. They kill everyone on the planet including the Blokk of that planet. However, Grant McKay soon arrived at the same time as he was attempting to reconnect with his fellow dimensionauts and Ward's suit was left on that dimension. He killed Blokk IV and the rest of the Dralyn to keep them from invading other dimensions before taking off to continue his hunt.[2]
Godworld Dimension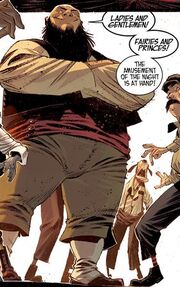 On Godworld, Mr. Block entered a bar where Grant and Brian McKay were sitting. He began a puppet show which perfectly reenacted the split between his father and how Grant was involved.[5]
Character Powers and Equipment
Powers and AbilitiesEdit
Powers
Abilities
Appearances, Images, and Quotes Edit
Quotations by or about Blokk (Black Science)
ReferencesEdit