Relatives
Suzie (daughter)
Characteristics
Status
Origin
Bobby is one of Spawn's loyal followers from the Bowery Alleyways. When his wife came down with cancer, he found it hard to bounce back. He lost himself in a drunken, downward spiral that ended with him loosing his wife and child. He kept a trinket from his daughter, Suzie. He held onto it for 15 years and would look at it for hope to return to a better life. When he explained his situation to John Leekley, it was knocked out of his hands and shattered on the ground.[1]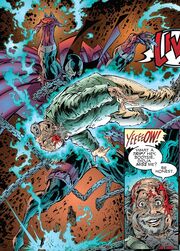 Death
As a result of Spawn hunting Chapel, Bobby got too close to danger. He was shot in the head by Chapel.[2] Refusing to let his friend die, Spawn resurrected Bobby at the expense of his limited Necroplasm.[3]
Over time, Bobby continued to stick near Spawn as a family member and always chose him as a friend without asking too many questions. When Spawn followed another bum, John, Spawn was subsequently shot. Word eventually reached Bobby of what happened. Bobby rallied the bums to lead a turf war against the bum John which ultimately led to a wave of deaths from the New York City bums. When Bobby fell as well, he was pulled from the throes of battle by his friend Boots.[4]
Spawn was soon pulled into the Greenworld and abandoned his old home of Rat City. As a result, Bobby was not seen much after the loss of Boots.[5]


Appearances, Images, and Quotes Edit
In the beginning of the series there was another bum in the Bowery Alleyways who went by the name of Bobbie. This is not to be confused with this character of Bobby who plays a much bigger role in the series.

ReferencesEdit