Bridgette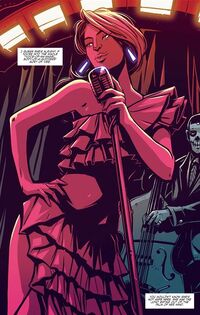 Characteristics
Status
Origin
I guess she's alright, if you're into the whole "voice-of-an-angel, body-of-a-goddess" sort of vibe.

-- Clay

Bridgette is a singer in Dedande City. When she accidentally walked in on The Thumb participating in some strange ritual, she found herself continually tailed by the Thumb, the city's drug lord. She sneaked away to ask Clay, the local P.I., for help.[1]
Later, they met at a diner when the observation didn't go well for Clay. Bridgette was upset that the Thumb knew who he was and would soon find her as the one that hired him. She gave Clay an address of a place to lay low while she sneaked a doll, with a listening bug implanted inside, into the Thumb's office.[2]
Later, Sandy became suspicious when Clay told her he was working with Bridgette. However, she didn't have time to ask questions as he was abducted by the drumline and brought to the Thumb. While he tied up and put in a room, Bridgette walked in and revealed she had orchestrated everything, only to let him go now. Clay was confused but didn't argue. He was pulled into the TV by the Teleshaman, who he thought had been killed.[3]

Appearances, Images, and Quotes Edit
ReferencesEdit
Community content is available under
CC-BY-SA
unless otherwise noted.