Brit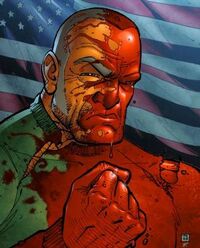 Characteristics
Status
Origin
History of character is unknown.
Character Powers and Equipment
Powers and AbilitiesEdit
Powers
Abilities
Weaknesses
While indestructible, he is not much stronger than the human being. Thus he lacks the offensive abilities to fight crime, forcing him to rely mostly on his mind and his indestructibility.

ParaphernaliaEdit
Equipment
Appearances, Images, and Quotes Edit
Brit starred in three one-shots: "Brit" (July 2003), "Brit: Cold Death" (December 2003), "Brit: Red, White, Black and Blue" (August 2004). Robert Kirkman wrote the three one-shots with Tony Moore illustrating the first and second issue and with Cliff Rathburn on the third. The one-shots have been collected in a trade paperback and was released in March 2007.
In August 2007, Brit was launched as an ongoing full-color series written by Bruce Brown and features Rathburn's debut as an ongoing series artist. This series is not canon.

ReferencesEdit
Community content is available under
CC-BY-SA
unless otherwise noted.