Brit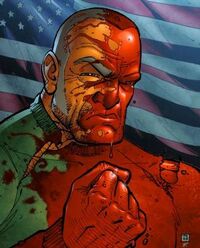 Real Name
Brit (Last Name Unknown)
Characteristics
Status
Origin
Brit had ingested a serum made by his father that made him invulnerable. He is a soldier as well as a successful topless bar owner.
Character Powers and Equipment
Powers and AbilitiesEdit
Powers
Due to ingesting a serum before the first World War, Brit's physiology was changed permanently.
Abilities
Strength level
Strength relative to his physical

ParaphernaliaEdit
Equipment
Appearances, Images, and Quotes Edit
Brit starred in three one-shots: "Brit" (July 2003), "Brit: Cold Death" (December 2003), "Brit: Red, White, Black and Blue" (August 2004). Robert Kirkman wrote the three one-shots with Tony Moore illustrating the first and second issue and with Cliff Rathburn on the third. The one-shots have been collected in a trade paperback and was released in March 2007.
In August 2007, Brit was launched as an ongoing full-color series written by Bruce Brown and features Rathburn's debut as an ongoing series artist. The series was overseen and edited by Kirkman. As of the second issue, Andy Kuhn came aboard as the series' breakdown artist. In the seventh issue, Rathburn was replaced by Nate Bellegarde as the new artist. The series expanded Brit's universe by introducing his brother and Sister and also revealed the origin of his powers.

ReferencesEdit