Previous Issue
Next Issue
Appearing in "Have you seen me? Part 6"
Featured Characters:
Supporting Characters:
Villains:
Aaron White (Single appearance)
Karl (Voice Only)
Other Characters:
Locations:
Items:
Vehicle:
Plot Synopsis for "Have you seen me? Part 6"
Story Line 1
Twitch Williams can hardly believe that Max Williams IV is in his apartment. He asks if he got kicked out of serving. Max says he's merely decided to return home given the disappearance of his sister. Outside, an assassin lines up a shot, and kills Max.
Story Line 2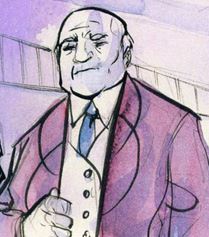 Sam Burke tells Twitch they are lucky the Ambassador has let them go. Twitch takes off to head back to the ambassador's room. Josef Udaku leaves the building when Twitch greets him as he's leaving. He sets off several rounds into Josef, appearing to have killed him as he falls off the edge into a river. K.C. MrRory jumps into the water after Josef. The police arrive and arrest Twitch.
Story Line 3
Josef Udaku arrives at the court hearing. He tells the judge to release him. He was wearing a Kevlar vest and survived the ordeal. He admits to having his daughter murdered by Twitch and chided him into attacking. He now admits the mistake. The judge dismisses the case. Twitch returns home to his wife and kids.
As Josef and K.C. fly back to South Africa, K.C. hits a button causing the plain to explode.


Solicit Synopsis
This is the second spinoff book featuring New York City police detectives Sam Burke and Twitch Williams, popular characters originally introduced in the core Spawn title. Casefiles: Sam and Twitch takes the crime noir world of Sam and Twitch to a darker level, feature unique artwork and storytelling from Marc Andreyko and Scott Morse. Intended for mature audiences only. "Have You Seen Me, Part 6?" The startling conclusion to the "Have You Seen Me?" arc! The fate of Twitch's children and the verdict in Twitch's trial are revealed! Will the tragedies inflicted on Det. Williams destroy him, strengthen him or something far worse? Plots are twisted and futures determined in this, the final chapter of the Casefiles' first arc!


Notes
Trivia
See Also
Recommended Reading
Links and References
ReferencesEdit
Community content is available under
CC-BY-SA
unless otherwise noted.