Previous Issue
Next Issue
Appearing in "Skeletons, Part 3"
Featured Characters:
Peter Draven (appears in both flashback and main story)
Sam Burke (appears in both flashback and main story)
Supporting Characters:
Villains:
Other Characters:
Donald Weiss, the attorney (Single appearance)
New York City Police Department

Officer Kyle (Single appearance)

Pete's Past Lovers

Alvin McMahon (Only appearance; dies)
Billy Sterner (Only appearance; dies)
Michael Betts (Only appearance; dies)

Senator Sean Halloran (appears in both flashback and main story)
Locations:
Items:
Vehicle:
Plot Synopsis for "Skeletons, Part 3"
23 years ago, Sam Burke was playing video games with friends at a local arcade. When he spotted his bike being stolen, he rushed outside to stop the man. He found Seamus Halloran waiting for him. He welcomed him into his vehicle and offered Sam $10,000 for his discretion in not speaking to anyone about his son's homosexuality.
In the present, Twitch Williams hears the story of how Sam accepted the hush money and can hardly believe his partner would do such a thing. They pull into Sam's apartment and find Peter Draven anxiously awaiting if they found any evidence. Twitch regrets to inform him they only found a little blood and skull fragment. He asks Pete if he had any other lovers that they might check into. They suddenly receive a call from Gordy Quincy who tells them it will be a while before he receives results of the DNA testing. In return, Twitch asks for another favor. He asks Gordy to find anything on a Betts or McMahon, two of Pete's previous lovers.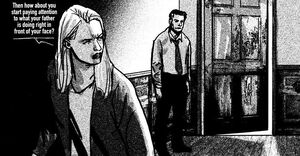 Elsewhere, Seamus meets with his assassin, Bobby Kellerman. He informs him of his disappointment in Bobby's performance. Outside, Mrs. Halloran eavesdrops on the conversation until Sean interrupts her and pulls her away. As she walks away in anger she tells him to be a man and face what his father is doing to his life.
Later, Gordy hands over a large file on the previous lovers. They've all recently been reported dead to their dismay.
At a local bar, Kellerman drinks and thinks about the issues he's having. He hears two men talking poorly about the Hallorans and starts a fight with them. He's arrested and brought into the police station for questioning. Twitch shows him the photo of three of Halloran's ex-lovers. Kellerman claims he's never seen them before those he mentally recalls killing each one of them personally. They are interrupted when Seamus and his lawyer arrive and tell them the interrogation is over.


Notes
Trivia
See Also
Recommended Reading
Links and References
ReferencesEdit
Community content is available under
CC-BY-SA
unless otherwise noted.