Previous Issue
Next Issue
—
Appearing in "Taster's Choice: Part 1 of 5"
Featured Characters:
Supporting Characters:
Villains:
Other Characters:
Locations:
Items:
Vehicles:
Plot Synopsis for "Taster's Choice: Part 1 of 5"
Tony Chu works for the Philadelphia Police Department with his partner John Colby. They are on a stake out watching people leave a Speedy Upholstery which sells illegal Chicken. They consider busting several people for purchasing chicken. One of which is Tony's brother, Chow Chu, who was an esteemed TV chef until he had a breakdown about the Government making Chicken illegal due to Bird Flu. When they spot D-Bear walking into the Speedy Upholstery, who is wanted for several murders, they decide to bust the place.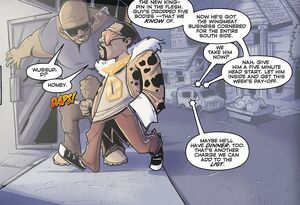 When getting ready with guns and bullet-proof vests, Mason Savoy from the U.S. Food and Drug Administration steps in to tell them D-Bear is under their protected custody. Instead, he offers them a meal of 'actual' chicken.
Tony and John use Savoy's password to eat the joint. Since Tony is Cibopathic, except for beets, he can sense every where the food been or handled. He has a bloody past of the chicken including the sous chef who prepared it. He realizes the sous chef is Tracy Lee Cobb, a wanted serial killer.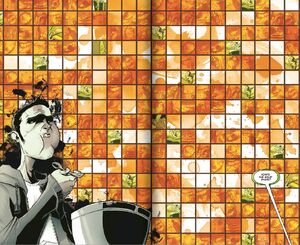 When Tony and John burst into the kitchen, John is struck in the side of the face with a knife and Tony gives chase to Cobb. Tony corners Cobb and tells him about how he knows of several of his victims which surprises Cobb. Cobb takes his own life by slicing his throat. Rather than let the case go unsolved, Tony starts cannibalizing Cobb to get the information of where the other victims are and how they were murdered.
Tony is being reprimanded by Captain Ed April at the station. He reports that several beat cops caught him eating the perp and that it was strange that he knew everything about the murders. He tells Chu to hand in his badge, but Savoy bursts into the room offering him a job with the FDA.


Notes
Trivia
See Also
Recommended Reading
Links and References
ReferencesEdit
Community content is available under
CC-BY-SA
unless otherwise noted.