Appearing in "Taster's Choice: Part 2 of 5"
Featured Characters:
Supporting Characters:
Villains:
Other Characters:
Locations:
Items:
Vehicles:
Plot Synopsis for "Taster's Choice: Part 2 of 5"
At McBeefy's, a teenager is scolded by a old woman for putting dairy on her hamburger. When he takes it back to the back room to spit on it he opens the burger to find a chopped off finger.
At the U.S. Food and Drug Administration, Tony Chu meets his boss Mike Applebee, who is riding him to eat lunch with him. When Mike reveals to Tony by lunch he means he needs to eat the found finger from McBeefy's, Tony is disgusted. Mason Savoy walks in and reveals he is a Cibopath as well. He tells Tony they need to use their powers to help solve these crimes. Tony reluctantly agrees and sees the finger belongs to Evan Pepper, a food inspector who stumbled upon an illegal poultry distribution ring. When the ring found Evan, they chopped off his finger.
Tony snaps back to reality to inform Mason and Applebee about Evan. Applebee informs him that matches the information from the prints and blood scans. Tony is infuriated he ate the finger if they had this information the whole time.
At McBeefy's, Tony speeks with Daniel Cornblum who flippantly responds that he doesn't need to talk to a police officer. Tony spots a stranger which he is slightly distracted by, bit when Tony fakes a strike team call to take out Daniel's father, which was really a call to Mason, Daniel quickly spills his guts to Tony about everything he has done wrong. When Tony sees an artificial Chickyn container in the back, he tells his partner Mason on the phone.
They investigate Sushi Ono as it has the same symbol as the artificial Chickyn container. Mason tells Tony that it received poor ratings from the inspector Evan Pepper. Mason wires Tony with a hidden microphone since he won't be as well recognized as a new member to the FDA to record his conversation with the owner, Sota Tomomaki.
Tony spots his lady friend he saw earlier again.
Tony walks into the store and tries to order food while the bartender keeps pushing him away. Tony tells him he knows Tomomaki as he is given food with maggots and flied on it. Tony pretends to enjoy the food but the bartender and several guards appear with guns. They tell Tony they knew he was a plant since Tomomaki's associates know the food is awful there. Mason busts into the room to take out everyone before anyone gets hurt.
During the clean-up, Mason tells Tony he needs to learn self-defense as this sort of thing happens all the time to FDA agents. He tells Tony they'll check up on the identities of the men they took down tomorrow and start there.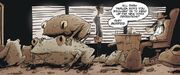 Elsewhere in a room with frogs strewn across the floor, a henchman tells Sota Tomomaki about the bust on his fake restaurant and shows him a picture of Tony stating he was the agent who busted it.


Notes
Trivia
See Also
Recommended Reading
Links and References
ReferencesEdit
Community content is available under
CC-BY-SA
unless otherwise noted.