Previous Issue
Next Issue
Listen, man. I KNOW I fucked up. I'm trying to make things right.

-- John Colby


Appearing in "Blood Puddin', Part 1 of 5"
Featured Characters:
Supporting Characters:
Villains :
Granny Minthamperior (Single appearance)
Other Characters:
Locations:
Sugar Rush Sweet Snacks (Single appearance)
Items:
Vehicles:
Plot Synopsis for "Blood Puddin', Part 1 of 5"
In Hell, Satan is alerted that Poyo has arrived in Hell. Satan and his minions quickly retreat from the might of Poyo.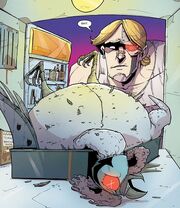 In Philadelphia, John Colby cooks up Poyo's body. He later visits Tony Chew at U.S. Food and Drug Administration Headquarters. Tony is still furious at John for putting his daughter in danger and tells him to stop calling him.[1] Agent Breadman walks over and tells him since so many people in the department have been injured, he is now acting director of the FDA. He tells him he has been reassigned partners but his new partner, Poyo, is running behind. He then orders Chu into his office.
Inside, he introduces him to the newest FDA member, Deshawn Berry. Tony groans as he's taken him down earlier.[2]

They head to town where gummy tanks, gum ball cannons, and other candy-related objects of destruction have taken out half the city block. They head to Sugar Rush Sweet Snack. Inside, Philadelphia Police Department members have already arrived and are questioning the owners. The owner blames Raymond Reece, a Creosakarer, able to craft monosaccarides glucose and fructose molecules into working, functioning machinery.
Tony takes a bite with his Cibopathy and realizes he was hypnotized to perform the crimes. He realizes his boss is a Minthamperior, one who can hypnotize with peppermint candies. D-Bear is hypnotized by the granny and attacks Tony. Tony quickly knocks sense into him and D-Bear turns and knocks out the granny.
Later, Tony heads to Our Lady of the Broken Femur Hospital to visit Olive Chu. John calls Tony and asks if he has time to meet with him for dinner. Tony turns him down. John had hoped Tony would eat Poyo and gain Poyo's fighting skills. He dumps Poyo in a dumpster and heads to the hospital to see how Mike Applebee is recovering.


Notes
This issue is collected in:
Trivia
See Also
Recommended Reading
Links and References
ReferencesEdit
Community content is available under
CC-BY-SA
unless otherwise noted.