Appearing in "International Flavor: Part 4"
Featured Characters:
Supporting Characters:
Villains:
Other Characters:
Locations:
Items:
Vehicles:
Plot Synopsis for "International Flavor: Part 4"
On Yamapalu, the Governor enters Amelia Mintz's room as she's working on a manuscript and offers her lunch. Once she tries it, she freaks out, grabs a knife, calls them monsters, and leaves the building sprinting away. Huapai asks the henchman who prepared the meal, and they reply is was the mute. He berates the two men calling them idiots. A third henchman knocks out Amelia and brings her back to the infuriated Huapai.
In Philadelphia, Mike Applebee receives several calls of cases involving dead bodies, dung, and the dead Russian lady.[1] He smirks and is excited to give all these cases to Tony to spit him. When he can't find Tony, John Colby ducks behind his desk to call Tony to tel him to come home. When Tony says he needs more time and tells him to cover as this fruit is local, Colby looks concerned. Tony tells John he's found a morgue of bodies on a peaceful island, a stack of files on famous chefs, and a map of a military compound he needs to investigate. John tells Tony about the Russian having vampire bite marks on her neck corroborating her statement of her saying she served the vampire. When Tony observes a U.S. Army personal with bitmarks, he looks concerned. He takes a bit of the man and his Cibopathy tells him he was attacked by a vampire, which is the first he's ever heard of them existing. Tony keeps taking bites to get information and he realizes the vampire is attacking military personal to get information on the compound. Tony wants access to the compound and Mrs. Sweets gives him a plan.
Tony hijacks a Sallsaberry delivery truck headed for Fort Yamapalu. He sneaks into the facility to find Huapai asking to speak with his prisoner. He find the Great Fatanyeros, a well known Cibolocutor, who communicates only through his food. He has become so adept at his skill he has recreated shakespeare's work in his dishes and can make people laugh and cry by eating his food. Fatanyeros gives Huapai food and upon eating it, he realizes that Fatanyeros has powerful allies in the east who are coming for him. Huapai asks for a status update from his men, and the north sector patrol is not answering.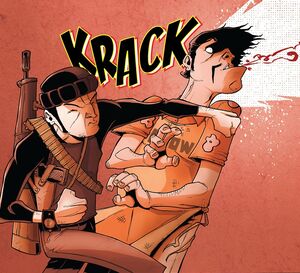 Tony rescues Chow Chu and Amelia from their encampments and tells them to head north. He wants to stay back because a U.S. Federal Agent has been found dead. Amelia points out there is a large fire to the north.
An unknown sniper has Tony in his reticle and is told to take the shot on the agent.
John Colby is sound asleep in the same bed as Mike Applebee who is wide-awake and freaked out.


Notes
Trivia
See Also
Recommended Reading
Links and References
ReferencesEdit
Community content is available under
CC-BY-SA
unless otherwise noted.