Previous Issue
Next Issue
Oh, I'm so sorry! I was looking for the bathroom... I didn't expect to find sewage, as well!

-- Baboushka


Appearing in the 1st Story
Featured Characters:
Supporting Characters:
Villains:
Secret Intel Bidders

Bob Felton (Only appearance; dies)
Lady Mbeke (First Appearance)
Rozaj (First Appearance)
Seamus Stirling (First Appearance)
Tanaka (First Appearance)

Somali Pirates
Other Characters:
Locations:
Items:
Vehicle:
Plot Synopsis for the 1st Story
On the Indian Ocean, Baboushka sunbathes on a large cargo ship. Seamus Stirling approaches her and comments on how attractive her legs are. She smiles and recognizes Seamus as they exchange a playful and flirty banter. They return to his quarters and sleep together. As Seamus kicks her out in nothing but a bed sheet, passengers look in shock as she walks the 'walk of shame.'
As she leaves, she puts in an earpiece from her purse and calls Gyorgyov who confirms he's receiving a signal from the bug she planted in Seamus' room.
Later that night, Baboushka breaks into the secret meeting room that Seamus was attending to bid on illegal intel from ex-CIA operative, Bob Felton. However, they are interrupted by Somali Pirates who came to hijack the ship. Baboushka thinks about as long as everyone stays calm, it will blow over and they won't have to worry about the Somalians knowing what was really going on. However, one of the trigger finger henchmen open fire and Seamus pushes Baboushka down to get her out of danger as the Somali Pirates open fire. Felton is shot in the cross-fire and dies. Baboushka realizes now they may never see the data and begins taking out the Somali Pirates as he mission is a bust. However, she's knocked unconscious and brought back to the leaders cabin. As the guards escort her, she makes a move to disable the men and take their weapons.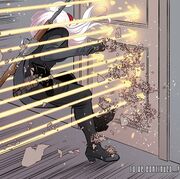 She heads back to her cabin to suit up and prepare to take back the shop. However, several Pirates appear outside her door and open fire on the cabin to clear out any potential danger. Baboushka has bullets fire all around her.



Solicit Synopsis
Settling back into her old criminal ways is like riding a bike for Baboushka… but the sudden appearance of armed pirates ensures this ride will be full of bumps and bullets! Dry land is a hundred miles away—can she keep her head above water?


Notes
Trivia
See Also
Write your own review of this comic!

Cover gallery for the Codename Baboushka: The Conclave of Death series
Recommended Reading
Links and References
ReferencesEdit