M.A.D.-1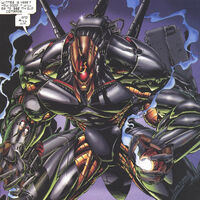 Real Name
Constantin Yevgraf
Aliases
Mostly Assured Destruction
Affiliation
Russian Revolutionary Group (Exact name unspecified)
Characteristics
Status
Origin
First appearance
Appearance of Death
M.A.D.-1 is a remnant of Russia's communist past, one of the last desperate attempts of old and twisted men to keep power.
Constantin Yevgraf was a former Speztnatz parner of Nikolas Andreyvitch Kamarov. He served with a blind duty to the state. Yevgraf volunteered for Prometheus, an experimental project to fuse man and machine, with the goal to bring a quick victory in Afghanistan and show to the Americans the superiority of Russian weapons.
When Yevgraf massacred not only rebels, but also women and children in Kabul, Kamarov tried to stop him, almost dying in the attempt. Officially, Prometheus was closed and M.A.D.-1 destroyed due to being too dangerous, but he was actually stored at Krasny Medvyed until he was needed again.[1]
Character Powers and Equipment
Powers and AbilitiesEdit
Powers
Appearances, Images, and Quotes Edit
ReferencesEdit
Community content is available under
CC-BY-SA
unless otherwise noted.