Control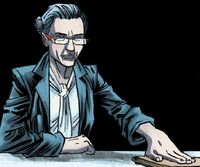 Characteristics
Origin
Control has met with Maria Kilbride several times asking for her investigations into the Other World. She gave her a mission of a missing archaeologist and sent Maria to a research facility to investigate.[1] Control later dispatched Dispatch to follow Maria and report on her activities.[2]
Later, Dispatch reported her discussions with Maria to Control. Dispatch updated her that the rock could have sonic properties that cause hallucinations according to Maria. She thought the whole story was preposterous but was shown several media files by Control. It showed Maria Kilbride killing gigantic and strange monsters that were allegedly visions. Control informed her she had been working in this fashion for them for some time. Control told her they don't understand what the Cross Culture-Contamination Unit did to create this reality, but she knows Maria feels responsible for the results and they must find out what Maria knows.[3]

Appearances, Images, and Quotes Edit
ReferencesEdit
Community content is available under
CC-BY-SA
unless otherwise noted.