D.A. Sinclair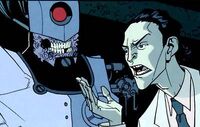 Characteristics
Unusual Features
Gap In between upper front teeth
Status
Origin
A reclusive scientist at Upstate University, is the creator of the "Reanimen", robotic zombies intended to be "the soldiers of the future". He is responsible for kidnapping Mark's friend, Rick Sheridan, and has turned him into the first living Reanimen. Taken into custody, he is now in the employ of Cecil Stedman.
Character Powers and Equipment
Powers and AbilitiesEdit
Abilities
Genius Level Intellect: He's very intelligent, enough that super genius robot compliments him and Cecil is fully willing to endorse him for his inventions.

Mechanical Engineering: Enough for him to make the Reanimen, and make new Reanimen from Viltrumite corpses in a few weeks.
Science: Very knowledgeable in many fields of science, most prominently mechanical engineering and reverse engineering.
Weaknesses
He's not a fighter, and he's still just a human being.
Appearances, Images, and Quotes Edit
ReferencesEdit
Community content is available under
CC-BY-SA
unless otherwise noted.