Daniel "Danny" Cortez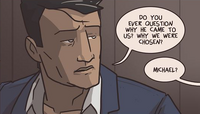 Real Name
Daniel "Danny" Cortez
Characteristics
Origin
First appearance
Appearance of Death
Daniel is one of the Four Horsemen, representing disease.[1] Daniel performed a sermon in front of thousands, telling the followers the saints need to be sacrificed for the lord to be brought forth. He was complimented for his sermon by James. Daniel told James the sermon would be broadcast in the south and mid-west later that night. Daniel is then told that revelations has told that a soul would unite the people on earth and that the soul would create his own army. Daniel is told they don't choose their roles. When Daniel told James that revelations call the angel arriving the anti-christ, he is told they don't serve the anti-christ but if they need another to usher their lord into their world that is their lot.[2]
Daniel attacked Archangel Michael, temporarily burning his soul with pestilence and locust. In order to stop him from harming Michael, the horseman of war beheaded Daniel.[3]
Character Powers and Equipment
Appearances, Images, and Quotes Edit
ReferencesEdit
Community content is available under
CC-BY-SA
unless otherwise noted.