Spawn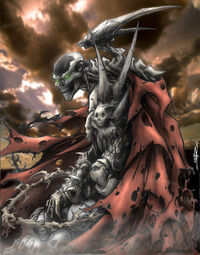 Characteristics
Status
Origin
Daniel Llanso's story begins 400 years in the future after Albert Simmons's death. Daniel was the son of a middle class, abusive father. His mother and sister often felt the brunt of his rage until he took matters into his own hands and murdered his father.[1]
Five years after his death, Daniel was reborn as Hell's latest Hellspawn. The first thing Daniel saw upon being reborn was a woman named Madrid and her son, Matthew, being attacked by Desiccator. Following the instincts of his own family being abused by his father, he jumped to their aid and destroyed Desiccator. This frightened the woman and child as they held a gun on him ordering him to stay away.[1]
Character Powers and Equipment
Powers and AbilitiesEdit
Powers
Energy Manipulation
Soul Manipulation
Transmutation: Spawn specializes in Matter Manipulation.
Zoolingualism: Spawn can talk to animals.
Strength level
Nigh-omnipotent
Appearances, Images, and Quotes Edit
Images featuring Daniel Llanso
Quotations by or about Daniel Llanso
Appearances in Other Media Edit
ReferencesEdit