This is Darkwing from the TV show. For the comic character, see Darkwing.
Base Of Operations
Midnight City,
Guardians of the Globe Headquarters
Characteristics
Status
Origin
Place of Birth
Midnight City
First appearance
Appearance of Death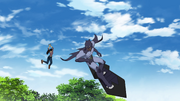 Darkwing was an original member of the Guardians of the Globe, the world's premiere superhero team. In his last mission with them, they defeated the Mauler Twins in front of the White House with the help of fellow superhero Omni-Man. Later, in his hometown of Midnight City, Darkwing was interrogating some burglars when he received a Guardians priority alert. Arriving at their headquarters, the Guardians wondered which one of them called them here. Suddenly, Omni-Man arrived and quickly murdered them one by one, including Darkwing. Omni-Man's motives remain unknown.
Character Powers and Equipment
Powers and AbilitiesEdit
Abilities
ParaphernaliaEdit
Equipment
Battlesuit equipped with hydraulic gears
Grappling hook
Super-magnetized handcuffs
Transportation
Weapons
Exploding shurikens
Magnetized bombs
Appearances, Images, and Quotes Edit
Images featuring Darkwing (TV)
Quotations by or about Darkwing (TV)
Darkwing is a parody of the popular DC superhero Batman, just as the Guardians of the Globe were a parody of DC's premiere superhero team, the Justice League.

ReferencesEdit