David Hiles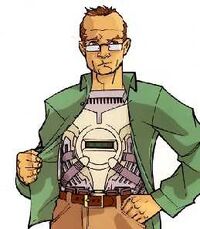 Relatives
Unnamed son (deceased)
Characteristics
Status
Origin
First appearance
Appearance of Death
David Hiles was a weapons engineer for a military sanctioned research firm. His son committed suicide which also resulted him getting divorced from his wife. He also shortly thereafter lost his job. He joined the staff of Reginald Vel Johnson High School, where one of his students was Mark Grayson, the teenage superhero called Invincible.
The teacher was secretly kidnapping students and strapping bombs to their chest and leaving them to explode. He is doing this to take revenge against children that spend too much time at the mall, parties, drinking alcohol, and play sports when they should be studying and doing homework. Towards the end, he made himself a living bomb and tried to kill Atom Eve and Invincible. He failed as Invincible threw him into the sky before he exploded.[1]
Character Powers and Equipment
Powers and AbilitiesEdit
Abilities
ParaphernaliaEdit
Weapons
Human Bombs
Appearances, Images, and Quotes Edit
ReferencesEdit
Community content is available under
CC-BY-SA
unless otherwise noted.