Characteristics
Status
Occupation
Government Agent
Origin
Psi-Fire was a member of Youngblood. During a mission in a foreign country, he reached dictator Hassan Kussein and used his powers to kill him, stating that he could do it from the USA but liked to do things personally. Due to this murder against orders, Psi-Fire was forced to use an inhibitor. When the Youngblood faced Darkthornn's forces, Psi-Fire's inhibitor was removed and he drove Darkthorn away.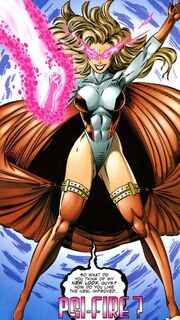 The fight against Darkthornn left Psi-Fire comatose, until he transferred his mind to a female medical staff member. Psi-Fire attacked Youngblood until he/she tried to use his powers against
Masada
, but since Masada's powers come from several souls, it overwhelmed Psi-Fire.
Character Powers and Equipment
Powers and AbilitiesEdit
Powers
Appearances, Images, and Quotes Edit
See also
ReferencesEdit
Community content is available under
CC-BY-SA
unless otherwise noted.