Deadlock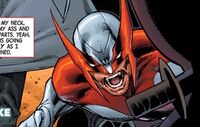 Characteristics
Unusual Features
Unusually sharp nails and canines
Status
Occupation
Mercenary, formerly repo man
Origin
John Locke was a common man working as a repo man until a day when he got a job which consisted of recovering a briefcase that belonged to the military, instead of returning the briefcase he sold it to a gang and then proceeded to spend all the money he got from the sale in cocaine.
When the authorities managed to track him down and tried to apprehend him he suffered an heart attack and died, he was subsequently brought to Project: Born Again to be resurrected.
The scientist tasked to resurrect him discovered that he possessed a latent Nu-Gene and activated it but the process turned him completely insane.
Shortly after Deadlock escaped his captors while killing everyone in his way, he was found by Gage who recruited him in the Four.
Some time later he was captured by Youngblood and beaten to death by Chapel, his body was given once again to Project: Born Again who resurrected him and assigned him to Cabbot Stone, making him a founding member of Bloodstrike.
Character Powers and Equipment
Powers and AbilitiesEdit
Powers
Weaknesses
Mental Illness: Deadlock is affected by a number of mental conditions ranging from homicidal tendencies to hostility toward authority figures and multiple personalities.
Appearances, Images, and Quotes Edit
Because of his insanity Deadlock does not remember being a member of The Four. Deadlock likes to drink the blood of his victims.

ReferencesEdit
Community content is available under
CC-BY-SA
unless otherwise noted.