Deborah Grayson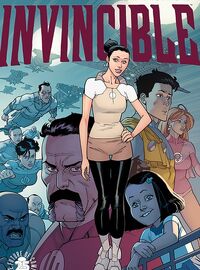 Real Name
Deborah Grayson
Characteristics
Status
Origin
Deborah Grayson met an alien Viltrumite named Nolan in the early 1980's, after he saved her life. She married Nolan knowing he was a superhero and started showing him how to live on Earth. They had a son named Mark.[1] When Mark was almost 18, he developed superpowers, and started going by the name Invincible.[2]
Her happy life ended when Nolan beat Mark to within an inch of his life and fled the planet. Before fleeing Nolan said he never loved her, regarding her as little more than a pet, but used her to sire a son.[3] Debbie began to drink heavily and for a time barely left the house. Later she started to leave the house to work towards a Real Estate license. Debbie started a friendship with Claire Bono, and after finding out that Claire is married to Superpatriot, Debbie revealed her son's secret identity to her. After Mark returned to Earth with his baby half-brother (at the insistence of the baby's mother), she agreed to raise him. She named him Oliver after her father.[4]

Appearances, Images, and Quotes Edit
ReferencesEdit
Community content is available under
CC-BY-SA
unless otherwise noted.