Edmund Holt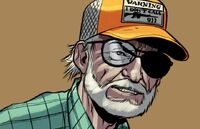 Characteristics
Unusual Features
Eye patch
Status
Origin
Edmund Holt is a crotchety old-man who believes in less government control and is known for causing trouble.
Sheriff Wayne Cypress visited Edmund Holt on day. Wayne informed him the Federal Bureau of Investigation was coming and wondering if Edmund could help stir up trouble. Holt informed him that he's no longer anti-government. After further pleading, Edmund finally agreed to help minimize the impact of the feds on Cypress' plans.[1]
Later, Mayor Ken Dillisch ordered for the town's livestock to be culled by order of CDC due to the fear of outbreak of Revivers. Fulfilling his promise to cause trouble, Edmund stood up for the people at the meeting and rallied the people to take their power back from the government and not give in to their orders.[2]

Appearances, Images, and Quotes Edit
ReferencesEdit
Community content is available under
CC-BY-SA
unless otherwise noted.