Representative Elia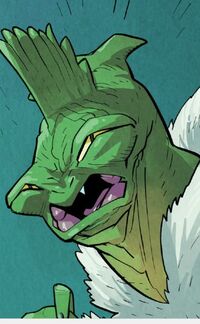 Current Alias
Representative Elia
Characteristics
Unusual Features
Green-Skin
Origin
First appearance
Appearance of Death
Elia was an ambassador for the Coalition of Planets. She began to work with Allen the Alien against Thragg.[1]
She later recommended the Coalition of Planets start a breeding program to combat Thragg. She believed there is no relative difference between a pure-blood and a hybrid and Oliver Grayson and Invincible (Mark Grayson) were in their employ.[2]
Five years later, Elia faked an emergency council session to lure Allen to Coalition Headquarters, where she staged a coup. This was due to Allen never acting against Thragg or listening to her advice five years earlier now that Thragg has an army. Elia blew up herself, several hired strongmen and the building, leaving Allen in a catatonic state.[3]

Appearances, Images, and Quotes Edit
ReferencesEdit
Community content is available under
CC-BY-SA
unless otherwise noted.