Lord Entropy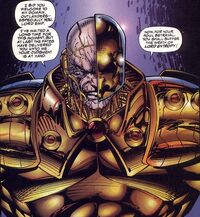 Current Alias
Lord Entropy
Characteristics
Status
Origin
Like the other Kherubim on Earth, Lord Entropous arrived on the planet when the Explorer ship he was travelling on crash-landed thousands of years ago, following an orbital battle with a Daemonite vessel (which was also brought down). The Kherubim mostly integrated themselves among the similar-looking humans, with Entropous being known as Lord Entropy.
In medieval times, Lord Entropy and his brother, Lord Emp, fought side by side against the Daemonites. While battling the Daemonite Brannoch the Black, they killed Brannoch, but the Daemonite inside escaped and possessed Entropy's wife, Gwynith. Emp was forced to slay Gwynith and Entropy became mad with grief. He swore to avenge her and disappeared.[1]
In the mid-twentieth century, Lord Entropy abducted Emp[2] and restored his memories with his Orb of Power. Emp confronted Entropy with the truth, but Entropy was still unable to accept it. The WildC.A.T.s came to his rescue and together they defeated Entropy.[1]

Appearances, Images, and Quotes Edit
ReferencesEdit
Community content is available under
CC-BY-SA
unless otherwise noted.