Date of Birth
December 8, 1962
Place of Birth
Minneapolis, Minnesota, United States of America
First publication
Unknown
Personal History
Personal History of Erik Larsen is unknown.

Professional History
Erik J. Larsen (born December 8, 1962) is an American comic book writer, artist, and publisher. He is best known for his work for Marvel Comics in the 1980s and as one of the partner owners of Image Comics since the early 1990s.
Larsen was born in Minneapolis, Minnesota. As a child growing up in Bellingham, Washington and Albion, California, he created several comic books featuring versions of a character named "The Dragon", whom he has since described as a Batman rip-off who drove a car copied from Speed Racer's Mach Five, and turned into a superhero using a magic word like Captain Marvel. He and two friends produced a fanzine called Graphic Fantasy, which featured this character.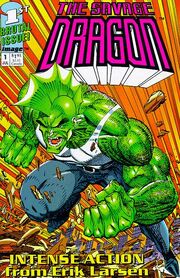 Larsen's first paid work was for the anthology Megaton, co-creating and illustrating a feature called "Vanguard" with publisher Gary Carlson. A revised version of the Dragon debuted in issue #2 and appeared in the following two issues. Larsen went on to work for AC Comics on Sentinels of Justice and The DNAgents for Eclipse Comics. He did work at DC on The Outsiders, Teen Titans, Adventures of Superman, and Doom Patrol. For Marvel he did an Amazing Spider-Man fill-in story and five issues of Punisher. A Nova story for Marvel Comics Presents was greenlit but cancelled because it didn't fit with an upcoming New Warriors series that would feature the character.
He replaced Todd McFarlane on Amazing Spider-Man with issue #329, (having previously penciled issues 287, 324, and 327) and with writer David Michelinie, the series experienced increasing sales, with stories such as "The Cosmic Spider-Man", "The Return of the Sinister Six" (#334-339), and "The Powerless Spider-Man" (#341-343). He left the title with #350, leaving it to series mainstay Mark Bagley with #351. Larsen again succeeded McFarlane on Spider-Man, where he wrote and drew the six-issue story arc "Revenge of the Sinister Six" (#18-23).
Seeking greater control and profit over the work they created, he and five other illustrators abandoned Marvel to form Image Comics, where Larsen launched a series featuring the Savage Dragon. Though he continues to write and illustrate The Savage Dragon, Larsen has occasionally returned to Marvel to write and illustrate, on titles such as Fantastic Four, The Defenders, Wolverine, and Nova. He has also done work for DC writing Aquaman. In 2004 Larsen became Publisher of Image Comics, taking responsibility for all comics produced by creators other than the Image partners and their studios.
Erik Larsen is not to be confused with another artist named Larsen who has produced covers for special issues of Scandinavian The Phantom comics, made in the so-called "pocket format". (Confirmed by Erik Larsen on his message board at Image Comics)

Notes
Trivia
See Also
Work History
Official Website
Links and References
Community content is available under
CC-BY-SA
unless otherwise noted.