Eylan Hessman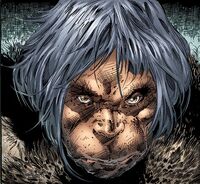 Characteristics
Status
Origin
First appearance
Appearance of Death
Eylan Hessman was born to father who was a prominent doctor that worked on the terminally ill. His father brought Eylan to the hospital where he learned much about the human body and anatomy.
When his father was struck with ALS, Eylan dedicated his life to trying to save him. The technology wasn't ready and he ended up burying his father on Father's Day.
Later, Eylan learned his father had a short affair with Christina Rocca, who gave birth to Nicholas Rocca. Eylan tracked brother to Naples, but was too late and found him gunned down by Italian Mafia. He soon offered his services to Luciano Bartino to save his brother's life in exchange for making him the ultimate hitman, OvertKill. However, upon being resurrected his brother instnatly smashed his skull, killing him instantly.[1]
Character Powers and Equipment
Powers and AbilitiesEdit
Abilities
Appearances, Images, and Quotes Edit
ReferencesEdit
Community content is available under
CC-BY-SA
unless otherwise noted.