Gale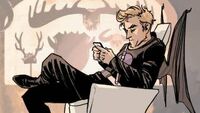 Characteristics
Status
Occupation
Secret Intelligence Officer
Origin
Gale is a Secret Intelligence Officer for the Landfall Coalition's Secret Intelligence division.[1]
Under his servitude of the king, he informed |Prince Robot IV that he was to retrieve the defector Alana.[2]
When the Prince does not complete his mission quickly, Gale traveled to the Robot Kingdom and obliquely threatens the Prince with violence against his pregnant wife.[3] Later, he was approached by Upsher and Doff, two young journalists. When they showed him a picture of Alana's wedding ring and knew of their secret love, he quick ushered them inside. He told them to keep it a secret as it was a deep undercover mission. As soon as they left, he called in to have The Brand, a top assassin, murder them to keep their story hidden.[4]
After Princess Robot was killed by Dengo and their infant son was taken, Gale approached IV in private and alerted him that the Landfall Coalition had secretly placed bugging devices in the Robot Kingdom's ships, including the one Dengo used to flee with the IV's son. When IV asked why Gale was helping him find Dengo, Gale claimed it is out of respect for he late Princess.[5]
Character Powers and Equipment
Appearances, Images, and Quotes Edit
ReferencesEdit
Community content is available under
CC-BY-SA
unless otherwise noted.