Gina De Medici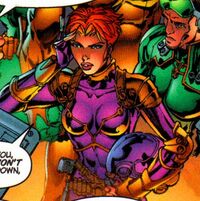 Characteristics
Status
Origin
Gina De Medici was a member of the alien-hating Puritans. She recruited Jeremy Stone into the group, without knowing that he was a half-alien himself.[1]
Gina led a Puritan troop in a time travel mission[2] to prevent the Kherubim and the Daemonites from ever landing on Earth by going back in time and blowing up both spaceships. This mission was stopped by the WildC.A.T.s, and Gina was defeated by Max Cash, who disarmed her and sent her to Earth in an escape pod.[3]
Without the equipment to return to present day, Gina got stranded on prehistoric Earth, where she faced some Coda sisters. After gaining their respect, Gina formed her own branch of the Coda, and while she never returned to present day, she left notes ensuring that one of her descendants killed Max in vengeance for leaving her stranded.[4]

Appearances, Images, and Quotes Edit
ReferencesEdit
Community content is available under
CC-BY-SA
unless otherwise noted.