Glingo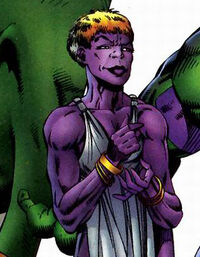 Characteristics
Unusual Features
Purple skin
Status
Origin
First appearance
Appearance of Death
Glinglo is a titanthrope (a subspecies of the Kherubim), who seeks peaceful ways to give equal rights to the titanthropes, unlike her brother Baxa who thinks the war is the only way.
When the WildC.A.T.s reach Khera, Glinglo approaches Maul with a holo-sheet, but a guard sends her away[1]. Maul uses the holo-sheet to find the titanthrophes' subterranean villages, where he meets Glinglo again. Baxa gets angered to see a tourist talking with his sister and challenges Maul to a fight. Maul wins and Glinglo tells him that this way he has won her hand. [2]
When Spartan visits the titanthropes' village to seek for Maul, Glinglo thinks he's coming to attack the titanthopes, but Maul assures that Spartan is a friend. [3]
Maul and Glinglo attend the political meeting between Emp (representing the senate) and Zealot (representing the Coda), where the other WildC.A.T.s arrive to stop a Coda plot to kill Emp and frame the titanthropes. Since the titanthropes are artisans, Void deduces that the Coda put a bomb in Zealot's new sword Calderoc, so Glinglo takes Calderoc and grows in size to stop the explosion from reaching anyone else than herself. After her death by the explosion of Calderoc, Senator Vulk's attempt to use it as anti-Coda propaganda for Emp's campaign, which convinces Emp that Khera is too corrupt and he must return to Earth.[4]

Appearances, Images, and Quotes Edit
ReferencesEdit
Community content is available under
CC-BY-SA
unless otherwise noted.