Goodfoot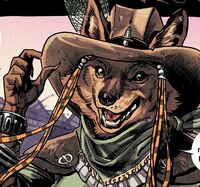 Aliases
The Trader; The Trusted
Base Of Operations
Mobile
Characteristics
Status
Origin
Goodfoot was a trader that traveled on the surface of the world below Keneil. She witnessed the faint glow of the Great Champion's crystal from a distance as she surveyed the fallen city.[1]
Goodfoot arrived in the ruined city of Keneil, on her cricket mount. Introducing herself as Goodfoot the Trader, she offered them coffee beans, gaining the trust of the disheveled gentlebeings. At night she crept out of the city to meet to Seven-Scars to report of the defense of the survivors[2]
The fox managed to convince Sandorst to gather all the remaining magical artifacts salvaged from the ruined city. Despite his concerns she played on his ego, stating that he would bring the survivors home and earn the credit of saving them, thus bolstering him reputation. She later manipulated him to remove Gharta from her position as leader of the survivors. In addition she talked Seven-Scars in ransoming the wizards so as to avoid retribution from the Cities. She informed him of the so-called Great Warrior. However Goodfoot planned on stealing the magical artifacts for herself, double crossing both the Bison and Wizards.[3] Later Learoyd approached her to acquire rope and sulfur. In addition he tasked her to convey a message to Seven-Scars for a parley and duel to decide the fate of the survivors. The Bison agreed but planned on attacking the city anyway.[4] Goodfoot attempted to steal the valuables however was shocked that they were missing, and approached Sandorst, believing he had stolen them.
Goodfoot was forced to stay in Keneil at Sandorst's order, having never trusted the fox. Later when Learoyd's gunpowder trap kill majority of the bison warrior she was among the gentlebeings shocked at the brutality.[5]
Character Powers and Equipment
ParaphernaliaEdit
Transportation
Cricket: In the world of Autumnlands, the inhabitants use giant insects such as crickets as their main form of mounts.
Weapons
Dagger
Appearances, Images, and Quotes Edit
ReferencesEdit
Community content is available under
CC-BY-SA
unless otherwise noted.