Gridlock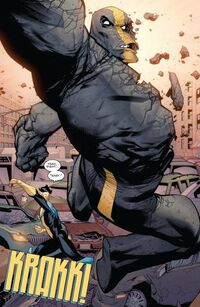 Characteristics
Origin
The alien Nolan Grayson, who had arrived on Earth, stopped the supervillain Gridlock from killing an innocent bystander. Nolan later married the bystander, Deborah Grayson.[1] 20 years later, Nolan, now known as the superhero Omni-Man, stopped Gridlock again.[2] Later still, Omni-Man's son, Invincible (Mark Grayson), defeated Gridlock.[3]
Character Powers and Equipment
Powers and AbilitiesEdit
Powers
Appearances, Images, and Quotes Edit
ReferencesEdit
Community content is available under
CC-BY-SA
unless otherwise noted.