Harley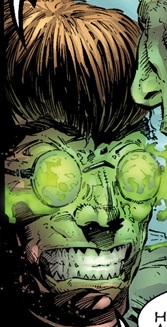 Characteristics
Origin
Harley heard voices in his head the claimed to be Hellspawn in origin. They continually pushed Harley to kill, but were barely drowned out by Harley playing his music too loud.
When Harley finally snapped one day, he found himself imbued with incredible power and Necroplasm. He used his powers to seek revenge on his alleged friend who had asked out the girl he was interested in. He murdered Travis, Kelly, and all the friends in a nearby area. When he awoke from using his powers, he had no recollection of killing Kelly.[1]
Character Powers and Equipment
Powers and AbilitiesEdit
Powers
Appearances, Images, and Quotes Edit
ReferencesEdit
Community content is available under
CC-BY-SA
unless otherwise noted.